Welcome to my first blog entry! This is something I have wanted to do for a very long time, but, life has gotten in the way (or...rather, my two beautiful children have kept me very, very busy.)
Anyway...back to work!
Something I am always thinking about is multi-syllabic words...I know I am not the only one?!?
As my clients progress through their speech goals, I often find myself in the position of targeting multi-syllabic words. These words can be particularly challenging for many reasons, the most obvious being the complexity issues they present with--especially in terms of phonological awareness, articulatory precision, syllable stress and timing. (*It is also important to always keep in mind that phonological awareness is very important for literacy acquisition.)
I really like the multi-syllabic word screener in the
Hodson Assessment of Phonological Patterns 3rd Edition
(HAPP-3), when I am doing an initial assessment or if I want to get a quick picture of my client's skill level.
Sample target words are: aluminum foil, calculator, spaghetti. The pictures are black and white and not very exciting, but they are clear and they get the job done.
But, over the years, I notice that I am always more comfortable using children's books (sorry Super Duper!) in therapy. Children's books are friendly and inviting. The colors are captivating. The story lines are fun. So, I realized the other day that I ALWAYS use Wake Up, Buttercup (by Alison Inches) with my kiddies.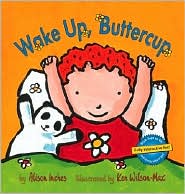 It is essentially about two toddlers getting ready for their day, i.e., getting dressed, eating and playing. There are many pros about this book--it is hard cover, it has tons of flaps and tabs and pulls to keep kids interested and, best of all, it has numerous multi-syllabic words revolving around animals (kids LOVE animals!) Rise and Shine, Porcupine! Tie your shoe, Kangaroo! Wash your dish, Jellyfish! (yes, just when you thought it couldn't get any better, it is also a RHYMING book!!!)
Are there other children's books that target multi-syllabic words?? I am now on the hunt....
For now, time to say..Goodbye, Dragonfly!!!